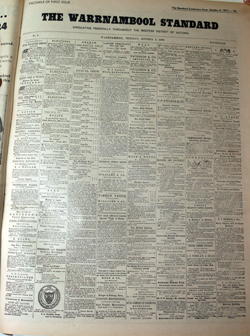 The Warrnambool Standard

When William Fairfax and Henry Laurie started The Standard in 1872, Warrnambool was a bustling but small port town with a population of only 4350.

More than a century later, Warrnambool is a thriving city of over 34,000 that attracts thousands of tourists each year, as well as being home to a diverse and growing population.

The Standard has been and continues to be the major news source for people in south-west Victoria, covering a vast area that extends towards the South Australian border in the west, halfway to Melbourne in the east, and north to The Grampians.

Born during the exciting years of the 19th century when the gold rush riches were still pumping through the state's economy, The Standard quickly progressed from a weekly to a tri-weekly and finally into a daily newspaper in 1884.

The growth of the newspaper mirrored the growth of the city of Warrnambool and the settlement of the region.

The Standard has documented, criticised, lauded, exposed and editorialised on Warrnambool's traumas, tragedies, thrills and triumphs.

The Standard continues in its fine tradition while looking to the future. It was one of the first regional newspapers to embrace the internet, launching its site in 1996. Today, standard.net.au is the region's most trusted website for local news, sport, entertainment and community information.